Archbishop Eamon Martin meets David Ford over abortion laws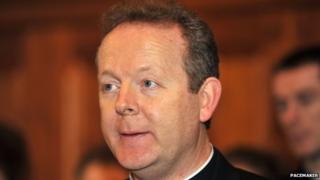 The leader of the Catholic Church in Ireland has met David Ford to discuss proposals for amendments to two aspects of Northern Ireland abortion law.
The Department of Justice is consulting on if abortion should be made legal in cases of "lethal foetal abnormality" and pregnancy as a result of rape.
Archbishop Eamon Martin met the justice minister along with a delegation of Catholic priests and lay people.
He said the church remained against any change to the existing abortion laws.
Archbishop Martin said the delegation "expressed very sincere and strongly held views about the right to life of a mother and her unborn child".
Mr Ford said the meeting had been useful and had given the opportunity to "perhaps correct some misconceptions".
He said the consultation was about "two very narrow areas of legislation".