Jim Allister accused of bullying DUP adviser Stephen Brimstone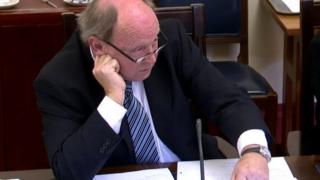 TUV leader Jim Allister has been accused of bullying a DUP special adviser who was giving evidence to a Stormont committee.
Stephen Brimstone was giving evidence to the Northern Ireland Assembly's Social Development Committee.
It is holding an inquiry into claims in a BBC Spotlight programme of political interference in the Housing Executive.
As Mr Brimstone was being questioned by Mr Allister, DUP MLA Sammy Wilson claimed he was bullying the witness.
Mr Brimstone, a special adviser in the Department of Social Development, was appearing before the committee for a fifth time.
He was asked about claims that he had telephoned DUP councillor Jenny Palmer to get her to change her vote in a Housing Executive board meeting.
The board was considering the termination of a maintenance contract with the firm Red Sky.
Mr Brimstone disputes Mrs Palmer's version of events.
He was repeatedly questioned by Mr Allister about whether he attended a party meeting where Mrs Palmer was present and about claims that an apology was prepared for Mrs Palmer but could not be agreed.
Mr Brimstone said he was not prepared to comment on "internal party matters".
There were several heated exchanges between Mr Allister and DUP MLAs Gregory Campbell and Sammy Wilson.
Committee chairman Alex Maskey of Sinn Féin intervened on a number of occasions and warned members about their use of language.
He said he would suspend proceedings if matters did not improve.