Sinn Féin challenges Newry, Mourne and Down council name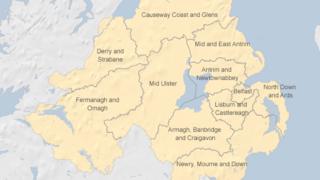 Sinn Féin is to challenge the recent decision to name a new super council Newry, Mourne and Down.
The party has lodged an official objection through what is known as the call in procedure.
The council voted on the name on Tuesday night, with 23 councillors backing Newry, Mourne and Down.
However, Sinn Féin said the name was a snub to south Armagh and all the party's councillors voted for the name Newry City, Mourne and Gullion.
On Friday, Councillor Roisin Mulgrew said: "We felt that this name reflected the entire region that we serve and also give recognition to Newry as the principal city.
"The ratepayers of south Armagh should be included in the new name as of right, not of privilege."
Northern Ireland's 26 district councils are being replaced by 11 larger councils in April.
The local government act provides that a decision of the council or one of its committees can be called in for reconsideration if at least 15% request it.
In a statement, the council said: "The council can confirm that it has received a call-in from seven councillors in relation to the name of the new council and this has been called in on the basis of the nature and extent of the disproportionate adverse impact this will have on the businesses and the community in south Armagh.
"The chief executive will now seek legal opinion on the admissibility of this call-in and will advise the council accordingly."
Unionist councillors also used a call-in to challenge the name of the new Derry City and Strabane District Council, while councillors in North Down and Ards have put the name of their new council - which had been agreed as East Coast Council - back out to public consultation.