Attacks on two north Belfast houses 'were hate crimes'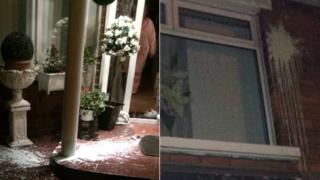 Attacks on two houses in north Belfast are being treated by police as sectarian hate crimes.
A brick was thrown through the front window of a house on the Crumlin Road at about 23:00 GMT on Friday.
A short time later, paint was thrown at another home nearby. Police said it caused substantial damage.
Detectives have appealed for anyone who noticed suspicious activity in the area or saw a car speeding away around that time to contact them.
Sinn Féin councillor Gerard McCabe visited the two families targeted.
"These people's homes have been attacked before for years, as a matter of fact, and one of the homes that I visited this morning the people are just basically fed-up with it," he said.
"They just want to get on with their lives and the people carrying out these attacks need to wise up."