NI Water dispute: 9,000 off supply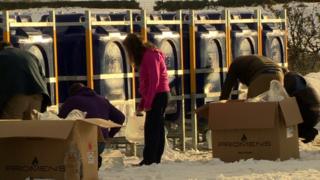 The number of homes and businesses without water has doubled to 9,000, ahead of further talks to resolve the NI Water industrial dispute.
The latest problems are centred on west Tyrone and parts of counties Londonderry and Fermanagh.
The unions' work-to-rule over the pensions dispute means it will be 08:00 GMT before engineers will be on site to carry out repairs.
The company has a postcode search on its website with further information.
While at one stage on Monday the number without supply had fallen to 4,500, NI Water said further problems at Lough Braden water treatment works meant there would be continued disruption in west Tyrone.
Areas that may again be affected include Castlederg, Drumquin, Kesh, Killen, Lack, Dromore, Ederney, Irvinestown, Lisnarick, Clonelly and Drumskinny.
It said people in the Draperstown and Pomeroy areas affected by disruptions in recent days should have their water supply back.
NI Water and union representatives have been holding talks on a third offer made by the company.
The unions have said that they believe it does not address the core issues, while NI Water said its negotiators were seeking clarification on a union counterproposal.
NI Water chief executive Sarah Venning said the industrial action was "not responsible" and people had every right to be "fed up".
Ms Venning said the company had put "a realistic and reasonable offer on the table".
"We are doing absolutely everything within our power, we are working 24/7. It is managers that are driving around delivering water. We have been putting out bottled water. Our management team are committed and dedicated," she told the BBC.
Ryan McKinney from the union, Nipsa, said: "When I speak to our members, and they are also affected by the loss of water, they say they aren't prepared to reinstate goodwill, they haven't experienced any goodwill for a long time from the company.
"The company has been very successful over the last number of years... they have reduced bills to hundreds of thousands of business customers.
"They have managed to do that because our members have taken pay freezes and taken redundancy and been forced out of the company. There has to be an end to that and people have to protect their long-term future."
Earlier on Monday, Ciaran Woods from Loughmacrory, County Tyrone, said his family had been without water since Saturday morning.
He and his wife have two children, including an eight-month-old baby, who was sick over the weekend.
NI Water has now put in an emergency supply, but Mr Woods said it had been very difficult and disruptive.
"We were resorting to primitive methods, like me standing outside and loading buckets of snow to melt so that we could flush the toilet," he said.
"There was the disruption of it all. The baby was unwell and running a high temperature. The things you would normally do like put him in a cold bath or shower were not open to us.
"We are by no means the worst off. What would it be like to be home with a newborn baby?"
Mr Woods said it was the third time since Christmas that the family's water supply had been cut off.
"If this is ongoing, are we to expect this every weekend?" he asked.
"Any level of sympathy there was quickly wanes when you are on the receiving end and you wonder would this be allowed to happen in Belfast or Lisburn.
"The fact that NI Water left emergency supplies in places that currently have water makes you wonder what is next."
He called for accountability on the part of Northern Ireland Water and a resolution.
Eilish Doyle from Draperstown, County Londonderry, said her supply had been cut off for a week.
"Living without water has been very frustrating," she said.
"I have three grown-up children, as well as myself and my husband. It has been very hard.
"At one stage, I was out gathering snow to get water to wash and to cook."
NI Water said it would try to minimise disruption, but resources were limited.
Last weekend, about 10,000 customers in counties Fermanagh and Tyrone were left without water after a pump at a treatment plant in Enniskillen broke down.
Nipsa, Unite and GMB members voted last month for a work-to-rule and withdrawal of on-call services and over-time in a row over pensions.
NI Water said it remained "committed to continued engagement" with trade unions in an effort to resolve the dispute.