Sammy Wilson reported over 'Je suis Sammy' tweet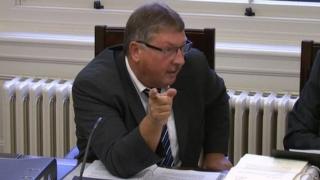 An Alliance MLA has complained about the DUP's Sammy Wilson to the assembly standards commissioner over a "tasteless" tweet.
Mr Wilson described politicians who reported previous comments he made about TUV leader Jim Allister to the commissioner as "assembly jihadists".
"Starting free speech campaign: Je Suis Sammy," he wrote.
Alliance MLA Stewart Dickson said the remark was in bad taste, but Mr Wilson said he had no regrets.
Mr Dickson said: "This remark by Sammy Wilson is extremely tasteless given the 17 people who were murdered in Paris and the ongoing threat by Islamic State in the Middle East.
"The 'Je Suis Charlie' phrase became the global response to the despicable scenes in France, so for Sammy Wilson to make his own version for a relatively trivial matter is disrespectful to those who lost their lives at Charlie Hebdo."
Last October, a Northern Ireland Assembly committee hearing was suspended after Mr Wilson called Mr Allister a "thug". His comments were referred to the assembly standards commissioner, Douglas Bain.
Mr Wilson said his tweet was "mocking the process by which assembly members can run to someone in authority every time they're offended".
He said the Stormont assembly was a "debating institution which is confrontational at times", and to try to sanitise it was "totally against the idea of free speech".
Mr Wilson, who joined Twitter earlier this month, said his tweet was "not insulting to those who lost their lives in Paris".
"The whole point was that this was about freedom of speech - this has now become the slogan of people who wish to have the right to express themselves in whatever way they want," he told BBC Radio Ulster's Talkback programme.
"I was actually mocking those who felt they had to run and hang onto the coattails of the assembly standards commissioner."
Mr Dickson called for Mr Wilson to retract his remark and apologise for the offence he had caused.
"As an elected representative he should be mindful of what he says," he said.
"Politicians should be held to the highest standard.
"I have raised this matter in the assembly and have written to the speaker and assembly standards commissioner, as well as the speaker of the House of Commons, as Mr Wilson is also an MP."