Northern Ireland unemployment figures have fallen for two years in a row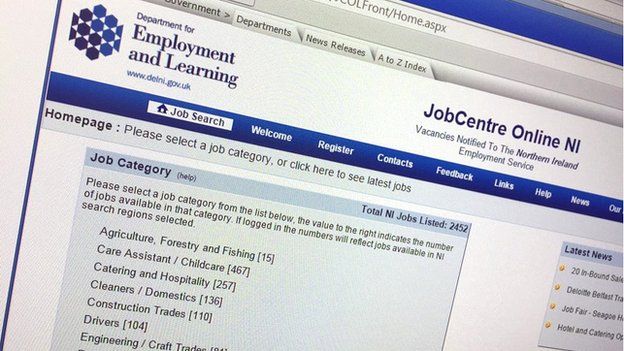 Unemployment in Northern Ireland has been falling continuously for two years new official figures have confirmed.
In December 2012, the number of people claiming unemployment benefit stood at just under 65,000.
Last month, the number of people claiming unemployment benefit fell again by 900 to stand at just over 50,000.
It is the 24th monthly fall in a row and the figure has now fallen by about 15,000 over two years.
The performance of the jobs market in Northern Ireland and across the whole of the UK has been remarkable.
Economic recovery has been weak and patchy and yet the number of people in work has continued to grow.
There has been a wider debate about the sort of jobs being created - official data suggests that many of the new jobs are in low paid, low productivity work.
But with inflation likely to be around record lows for most of this year, many people in work should start to feel a bit better off.
The Northern Ireland employment rate is below the UK average of 73% and is the lowest rate among the 12 UK regions.
Other figures suggest that while the Northern Ireland labour market is continuing to improve, it still lags behind other parts of the UK.
A high rate of economic inactivity, which is mainly people who are unemployed and not looking for work, continues to be a characteristic of the Northern Ireland market.
Related Internet Links
The BBC is not responsible for the content of external sites.