Inez McCormack: A challenging woman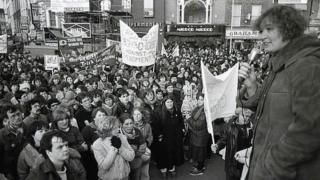 She once described herself as "a confused young Protestant" growing up in 1950s Belfast.
Inez McCormack went on to become a woman, passionate about equality and human rights for all.
She was the first woman to be president of the Irish Congress of Trade Unions.
On the second anniversary of her death, BBC Northern Ireland is screening an award-winning documentary: Inez: A Challenging Woman.
It was made by her friend, journalist and writer Susan McKay.
"In late 2012, Inez informed me that she had just got this devastating diagnosis that she was going to die in six to eight weeks of terminal cancer," Ms McKay said.
"It was decided that a documentary would be the best way of passing on some of the wisdom that Inez had gained over her many years as an activist.
"And it was extraordinary, the people who were lining up wanting to take part."
Among those in the queue were Irish president Michael D Higgins, former Irish president Mary Robinson, and former US secretary of state Hillary Clinton.
And among the first to speak up was fellow trade unionist, Patricia McKeown, who followed in her footsteps and went on to take over the leading role in the trade unions congress.
She calls Inez McCormack: "the first, the battering ram, the one to break the door down".
"She had such a range of people who followed her," said Ms McKay.
"She was a great champion of people whose rights had been denied to them, of people who had been humiliated in their attempts to obtain rights for themselves and others.
"We are very proud of the film because it does share that legacy. Its big message is fight for your rights and fight for the rights of other people who have been denied them."
Ms McKay said Inez McCormack was loved and brought great humour to her campaigns.
The film features one particular long-running laundry dispute at the Royal Victoria Hospital in Belfast, when that wit had a role.
The story involves nine weeks worth of foul laundry piling up in corners and a certain amount of "divilment".
Susan McKay said that, at root, Inez gave people a voice.
"It was the woman who were the lowest paid and who had not been taken notice of by medical staff or by the trade union movement and Inez got them involved.
"Some of them have gone on to be very remarkable women," she said.
"The key thing to say about Inez was that she was passionately anti-sectarian. She believed in workers' rights and she believed in equality."
Inez McCormack was born in Belfast in 1943 and spent most of her adult life fighting for the rights of those around her.
She once said: "My greatest achievement is seeing the glint in a woman's eye who believed she was nobody and now knows she is somebody."
In the late 1960s she was prominent when the civil rights movement spilled onto the streets.
For decades she campaigned for the rights of workers - especially for the low paid - first with the union Nupe and then Unison.
In 1998 she played an important behind-the-scenes role in the 1998 Good Friday Peace Agreement which led to the current political settlement at Stormont.
But it was her long fight for equality and human rights - especially for women - for which she will be most closely remembered.
The documentary is based on the interview Inez McCormack gave to Susan McKay shortly before her death in January 2013.
It is a Fine Point Films production directed by Trevor Birney and Eimhear O'Neill and produced and narrated by Susan McKay.
It won the best short documentary award at the Galway Film Fleadh in July 2014
Inez: A Challenging Woman will be screened on BBC One Northern Ireland at 22:35 GMT on Wednesday 21 January.