Stormont shake-up: Three departments likely to be broken up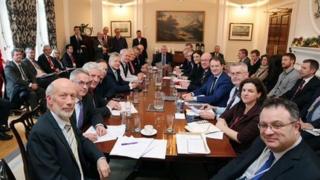 Three of Northern Ireland's executive departments are likely to be broken up as part of a Stormont shake-up, the BBC understands.
The Departments of Environment (DoE), Employment and Learning (DEL) and Culture Arts and Leisure (DCAL) are most affected by the proposals.
The parties are committed to reducing the number of departments from 12 to nine, before the 2016 election.
The plan has been drawn up by the head of the NI civil service.
Malcolm McKibbin was asked to examine the issue and draw up some options by First Minister Peter Robinson and Deputy First Minister Martin McGuinness.
The reduction in the number of departments was suggested during the Stormont House Agreement.
Mr Robinson revealed to the assembly on Monday that a paper was presented to executive ministers last week.
The BBC understands that if there is agreement, the re-shaped Northern Ireland Executive would look like this;
A new department called Economy and Skills would amalgamate the departments of Enterprise Trade and Investment (DETI) and some of Employment and Learning (DEL).
The Department of Agriculture Environment and Rural Development would draw together the Department of Agriculture and Rural Development (DARD) and some functions of the Department of Environment (DoE).
The remaining DOE functions would go into a new Department of Development and Infrastructure, alongside the current Department of Regional Development (DRD).
Another new department of Social Welfare Communities and Sport would see the current Department of Social Development (DSD) swallowing up the functions of the Department of Culture Arts and Leisure (DCAL) as well of the rest of DEL.
Other changes would see the Department of Education being renamed the Department of Education and Children, as it take over a range of children's services currently dispersed among other departments.
The health department would become the Department of Health and Well Being.
They are still proposals but the plan will be discussed at an additional meeting of the Northern Ireland Executive on Thursday afternoon - a further sign that the intention is to press ahead as quickly as possible.