Terry Laverty Ballymurphy conviction to be reviewed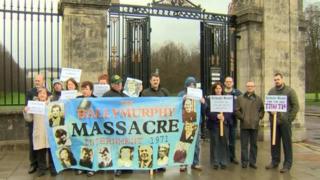 A man convicted of rioting during events in west Belfast in 1971, in which soldiers shot dead his brother and nine other people, is to have his conviction reviewed.
The killings took place in Ballymurphy over a three-day period in August 1971.
The Parachute Regiment was involved in an arrest operation in at the time.
Terry Laverty, whose brother was one of those killed, was convicted of riotous behaviour.
The case has now been referred to the Criminal Case Review Commission (CCRC).
In a statement, the CCRC said: "Following a lengthy and detailed investigation, the commission has decided to refer this conviction to the county court.
"The referral is based on new evidence that the sole evidence upon which Mr Laverty's conviction rests has been retracted by the witness and that, as a result, there is a real possibility that the court will set aside Mr Laverty's conviction and find him not guilty on a rehearing. "
The Ballymurphy shootings took place hours after the government introduced a policy of internment - the detention of paramilitary suspects without charge or trial.
A priest and a mother of eight were among the civilians shot dead by the Parachute Regiment.
The troops said they opened fire after they were shot at by republicans.
Families of the victims have been campaigning for a full public inquiry into the shootings.
Commenting on the referral of his conviction, Mr Laverty said: "My parents went to their grave without the truth being officially acknowledged and told. They had to live with the loss of their son John, and the official lies."
He added: "This is a significant step towards righting a terrible injustice and setting the record straight. There remains a distance to go but this is a good first step."