Ed Miliband 'incredibly inspired' by Northern Ireland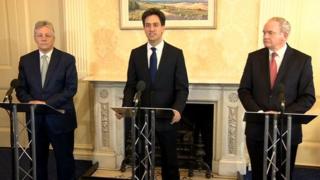 The Labour leader has paid tribute to Northern Ireland's first and deputy first ministers for showing "incredible leadership" during the peace process.
Ed Miliband is on a 24-hour visit to Belfast ahead of the General Election.
He met Peter Robinson and Martin McGuinness at Stormont to discuss how a future Labour government would work with Northern Ireland.
He told his hosts that he found Northern Ireland's transformation from conflict "always incredibly inspiring".
'Sign of success'
"I was a kid growing up in the 1980s in London and, as I've discussed with both of you, Northern Ireland then was talked about only in the news for conflict.
"Today, it's talked about for many other much more positive reasons, and to hear you discussing issues of health, education and welfare, and all of the other economic and social challenges that Northern Ireland faces, is a sign of success," Mr Miliband said.
Earlier, in a keynote speech in Belfast city centre, the Labour leader said his party will not oppose legislation to devolve corporation tax to Northern Ireland when it is brought before MPs next week.
Mr Miliband delivered his address at a Heenan-Anderson commission event at the University of Ulster.
Labour recently set up the commission, chaired by academic Deirdre Heenan and businessman Colin Anderson, to examine social problems facing communities in Northern Ireland.
'Inequality'
Earlier this month, Labour criticised what it described as the government's "rush" to introduce corporation tax legislation before May's election.
However, Mr Miliband told the invited audience that his party will now work to facilitate the bill's progress into law.
He also said Northern Ireland would fare worst if the UK voted to leave the European Union.
"A British exit from the European Union would be bad for all of Britain but particularly it would be bad for Northern Ireland.
"Because of the land border you share with the Republic [of Ireland] you know the importance of that closeness that we have with the European Union."
'Tough times ahead'
The Labour leader said Northern Ireland faces "no greater challenge than inequality" and added that tackling inequality was the core reason he had entered politics.
Mr Miliband told his audience that Northern Ireland had the highest proportion of workers who were earning less than the living wage and the level of child poverty was expected to rise.
He warned that a future Labour government "won't have lots of money to spend" and said that there would be tough times ahead.
However, he said Labour wanted to raise the minimum wage and rebalance the economy by creating "good jobs in the private sector".
Earlier, he also visited a school in north Belfast, taking questions from sixth form students at Hazelwood Integrated College on university tuition fees, the Chilcott Report and his use of social media.