Game of Thrones sculptor's statue stolen: Police investigate religious link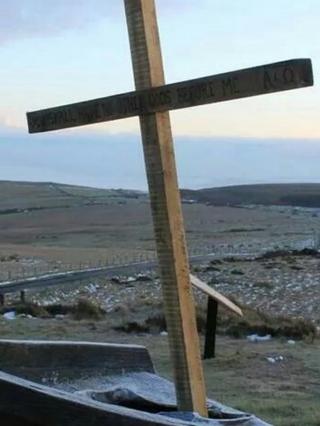 Police have said they are investigating the "religious aspect" of the theft of a six-foot sculpture of a Celtic sea god from a mountainside.
Manannán Mac Lir, which is made out of fibre glass and stainless steel, was stolen from Binevenagh Mountain near Limavady in County Londonderry.
The police said they were notified of the theft at about 10:25 GMT on Wednesday.
A wooden cross was left after the statue was taken.
Sculptor John Sutton, who has worked on the award-winning Game of Thrones series, has spoken of his shock at the disappearance of his £10,000 creation .
He said it would have taken a number of men with angle grinders several hours to remove the figure from its base.
Those who made off with the sea god left a wooden cross with the words 'You shall have no other gods before me' in its place.