Battle of Waterloo: Soldier's medal found 200 years on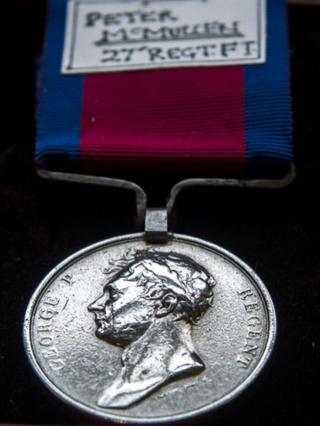 A Battle of Waterloo medal awarded to a County Down soldier who lost both arms fighting against Napoleon has been found almost 200 years on.
Private Peter McMullen was wounded by French cannon fire but was saved by his heavily pregnant wife who ran onto the battlefield and dragged him to safety.
Pte McMullen was a member of the 27th (Inniskilling) Regiment of Foot.
His medal, found in England, is to presented to the Inniskillings Museum in Enniskillen, County Fermanagh.
The museum's curator, Neil Armstrong, said the soldier's badge of honour was traced about 18 months ago and will be put on display at its "rightful home" in May.
'World history'
The medal presentation is one of a series of international events to mark the 200th anniversary of the Battle of Waterloo.
It was fought in June 1815 between the French, under the command of Napoleon Bonaparte, and the victorious Allied armies, commanded by the Duke of Wellington and General Blücher from Prussia.
Mr Armstrong said Pte McMullen and other soldiers from Enniskillen regiments had taken part in an event that "changed of the course of world history".
The town of Enniskillen gave its name to two British Army regiments - the 27th (Inniskilling) Regiment of Foot and the 6th Inniskilling Dragoons, both of which fought at Waterloo.
'Baby girl'
Pte McMullen, who was originally a weaver from Downpatrick, County Down, joined the 27th - the only Irish infantry regiment to take part in the 1815 battle.
The private's wife, Elizabeth McMullan, was hit by musket fire during the rescue bid, fracturing her leg. She later gave birth to a baby girl while the couple were still in hospital.
On hearing of the family's story, the then Duke of York, Frederick Augustus Hanover, visited them in hospital.
Famed in the nursery rhyme as the Grand Old Duke of York, he was commander in chief of the British Army.
The duke agreed to be godfather to the baby girl, who was named after him and christened Frederica McMullen of Waterloo.
'Humble warrior'
The royal honour was reported by the Belfast News Letter on 28 November 1815.
The newspaper article read: "It reflects equal honour on a humble warrior, his faithful wife, the Officers of the York depot, and the kind-heartedness of His Royal Highness the Commander in Chief."
However, the couple's baby girl died a few months after birth.
The family's story is already commemorated in a display at Inniskillings Museum.
Its staff are not aware of any surviving descendants of the couple but are hopeful that media coverage of the story might prompt any existing relatives to come forward ahead of the medal ceremony on 30 May.
Pte McMullen's entire regiment was also praised by the Duke of Wellington after the battle, who is reported to have said of the 27th: "They saved the centre of my line at Waterloo."