Boxing club complains of 'sectarian abuse' at east Belfast event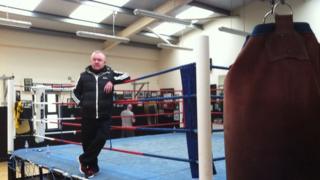 A cross-community boxing club in Belfast has said more needs to be done to stamp out sectarian abuse.
The Dockers Club said its supporters were verbally abused at the end of a tournament in east Belfast on Thursday.
The bouts were organised by the Antrim County Boxing Board and staged at the council-owned Avoniel leisure centre.
Dockers coach, Tommy Kelly, said: "In all my years attending tournaments in all parts of the community, I never heard abuse like it.
"Some of our young lads and their parents were called 'Fenian scum'," he added.
'Felt a threat'
One of the parents, who said she was abused, is a Protestant from the Shore Road area of north Belfast.
She said: "From inside, it actually escalated outside, and we felt a threat then."
Both the Antrim Boxing Board and Belfast City Council have confirmed that they are "aware of an incident".