Stuart Gregory Hamilton jailed over pipe bomb parts and drugs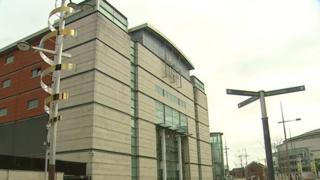 A 23-year-old man has been jailed for possessing explosives and cannabis with an estimated street value of £20,000.
Stuart Gregory Hamilton, from Glenkeen Avenue, Greenisland, County Antrim, was arrested after police searched his home for drugs on 6 August 2013.
Officers found components for two pipe bombs, 96 rounds of ammunition and seven shotgun cartridges at his home, in addition to the cannabis haul.
Hamilton, who pleaded guilty to five charges, will spend 16 months in jail.
The judge at Belfast Crown Court ordered that he spend an additional 16 months on supervised licence after his release.
'Bottom rung'
A prosecution lawyer told the court that officers found both herbal cannabis and cannabis resin, as well as bags used for dealing drugs, when they searched his home under the Misuse of Drugs Act.
The pipe bomb parts and ammunition were discovered in separate areas of the property.
A prosecution lawyer said the pipe bomb parts did not contain any explosives, and that the Crown "couldn't say what, if anything, was going to be done with them".
He also described Hamilton as being "on the bottom rung of the ladder" and said he came before the court with no previous criminal convictions.
'Links to paramilitaries'
Hamilton admitted a total of five charges, including possession of explosives in suspicious circumstances, and possessing cannabis with intent to supply.
His defence barrister told the judge Hamilton became addicted to cannabis as a teenager.
He said his client had been "frank" with probation and admitted selling the drugs for a man he had known all his life.
The court was told Hamilton reluctantly said the man may have links to paramilitaries and the drugs were being sold to his friends and acquaintances.
Regarding the pipe bomb components and ammunition, the defence barrister said that "people asked him to store these materials and he felt obliged to do it".
'Storeman'
Described his client as "naive", the barrister said Hamilton "was not fully aware of the serious nature of what he was doing".
The judge told Hamilton he had acted as a "storeman" and should have resisted the demands and pressure from those who asked him to house the items.
Sending him to jail, the judge said the amount of cannabis found at Hamilton's home was "significant" and ordered that all the items seized be destroyed.