Ulster University's Magee expansion 'crucial' for jobs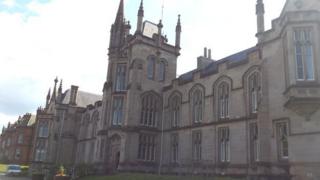 The expansion of Ulster University's Magee campus in Londonderry would be an economic "game-changer" for the area, a leading Derry businessman has said.
Gavin Killeen, the managing director of Nuprint technologies, said the extension project was crucial in order to attract investment and create jobs.
He made the remarks in an interview with the BBC Inside Business programme.
Last week, the minister for employment and learning has said he will bid for the £11m needed to fund the expansion.
'Catalyst'
Mr Killen said: "It would be a fundamental game-changer for the north west.
"It is the only catalyst programme, in my mind, as to how we regenerate the north west of the province.
"Our school-leavers are leaving the province, they're going to universities in the mainland and Scotland and the Republic of Ireland and they don't return," he added.
Ulster University secured planning permission for the £11m extension last year but there has been uncertainty over government funding for the project in recent months, due to budget problems at Stormont.
Last August, Employment and Learning Minister Stephen Farry said the project was "off the table" and would be indefinitely delayed because his department was facing cuts of £34m to its budget.
However, last week Mr Farry said the business case for the Magee extension was now at a very advanced stage, after which a bid could be made for capital funding.
The minister said he was committed to making the project "a reality in the very near future".
Gavin Killeen's interview will be broadcast on BBC Radio Ulster as part of Inside Business, presented by Wendy Austin, at 13:30 GMT on Sunday, 25 January.