Parker Green International agrees new finance deal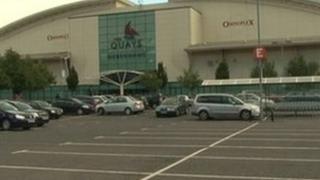 The Newry-based property firm Parker Green International has refinanced its loans that were held by the Cerberus investment fund.
Cerberus took control of the loans last year as part of its £1bn purchase of Nama's Northern Ireland loan book.
Parker Green, owned by Gerard O'Hare, has now agreed new finance with two lenders in Dublin and New York.
Dr O'Hare said this means it can proceed with planned developments like the extension of Newry's Quays centre.
Parker Green's new finance is being provided by Garrison Investment Group in New York and Earlsfort Capital in Dublin.
The terms of the deal have not been disclosed.
Parker Green is the first borrower to refinance its Cerberus loans.
A company such as Cerberus is not a long-term lender and when it buys loans it will expect the borrowers to pay them back quickly by seeking new finance or selling assets.
'Frustrations'
Dr O'Hare said the move by Parker Green was "a red letter day" not just for everyone in the firm, but also for the economy in both Northern Ireland and the Republic of Ireland.
"It's a sign of emerging confidence in the investment potential that has been stunted since the recession and the frustrations of having to operate under the Nama experiment," he said.
Nama (National Asset Management Agency) was set up to handle property loans made by the Republic of Ireland's banks before the financial crash.
Cerberus spokesman Chip Smith said this was "the first of many deals for Northern Ireland".
'We are committed to working with all asset holders to maximise their potential and to help stimulate the local economy," he added.