Desmond Savage: Prisoner absconds from Magilligan jail leave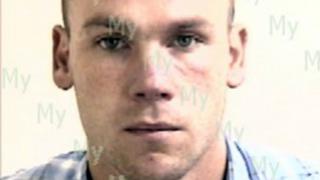 A prisoner whose convictions include killing three people while driving a stolen car has gone on the run.
Desmond Savage, who has more than 100 convictions, was temporarily released on compassionate grounds but failed to return last Wednesday.
He is serving a sentence for a spate of crimes on one night in June 2008, when he rammed a police car and broke into a church minister's home.
The NI Prison Service said the 39-year-old was at large from Magilligan jail.
Savage, originally from Lenadoon in west Belfast, received an eight-year sentence in 2000 for causing three deaths by dangerous driving.
He was driving a stolen car in Ballymoney, County Antrim, that crashed head-on with another vehicle, killing 27-year-old Charmaine Watson and her 24-year-old husband Justin.
The couple's three-year-old son was badly injured. They had been returning to Belfast from a family day out at Portrush, County Antrim.
Brian Donnelly, 20, a front-seat passenger in the stolen car, also died in the collision.
Savage is currently serving a sentence for robbery, criminal damage, burglary, assault on police and aggravated vehicle theft.
He was sentenced for a spate of crimes on a single night, that began when Savage and another man broke into a church minister's house in Newcastle, County Down, and stole his car.
An hour later, he rammed a police car in Warrenpoint during a chase after they had attempted to steal a woman's car.
He is described as having fair hair, of medium build and is 1.78m (5ft 8in) tall. The prison service said anyone who spots him should contact police.