Counting Irish hares at Belfast International Airport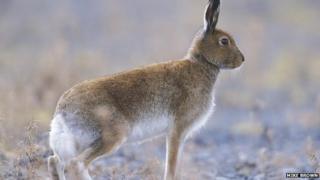 Midnight at Belfast International Airport and a safari-style truck with a powerful spotlight makes its way on to the runway - it's the one time of the week when the planes remain on the ground.
The light catches the reflection from two small eyes and an animal hurriedly hops away.
For years now the Irish hare - one of the few species unique to Ireland - has been happy to make its home on the runways despite the usual noise of landing planes.
Dr Neil Reid, a conservation biologist with Queen's University, is conducting the study.
"They don't seem to mind about vehicles, their main concern is probably that there's fewer foxes round here and the grass is cut less often than the rest of the countryside, which does them a lot of good."
The Irish hare population declined during the 20th century across Ireland due to agricultural expansion. It's hoped the survey can help paint a wider picture of the local ecosystem and the general biological health of farmland.
"By studying hare population and how their numbers increase or decrease it gives us some information about the intensity of general agriculture in the countryside and reflects population trends in other farmland species," Dr Reid says.
Assisting with the survey is PHD student Anthony Caravaggi.
Standing on the back of the truck with a spotlight, he stamps his feet when he sees a hare, and gives the exact position. As the count goes on this data will give an idea of how the hares move and behave.
Last week at the airport, 48 hares were counted in total. This week it's 58, as well as two foxes lurking nearby, although as the Irish hare is capable of running at speeds of up to 45 mph they are difficult to catch
The money for the survey comes from the Northern Ireland Challenge Fund (5p plastic bag tax) which funds a number of environmental projects across Northern Ireland.
A total of 12 sites (two from each county) will be surveyed as well as additional sites known for their high densities of hares including Belfast International Airport and Rathlin Island.