Belfast to Bangor railway line is reopened after Titanic halt alert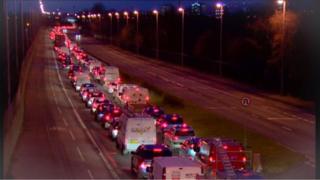 The railway line between Belfast Central and Bangor has been reopened following a security alert at the Titanic halt.
The Sydenham bypass has also reopened in both directions.
Motorists had to be diverted for several hours there was a substantial build-up of traffic.
Translink said rail passengers should expect "knock on delays" as service resumes to normal.
The alert followed the discovery of a suspicious object. Police have declared it to be "nothing untoward".
Supt Darrin Jones said: "I would like to thank members of the public for their co-operation and patience throughout the incident.
"We apologise for the inconvenience caused but public safety is of paramount importance and this was necessary to ensure the safety of the local community and to protect everyone."