Northern Ireland borrowing powers 'envy of Scotland and Wales'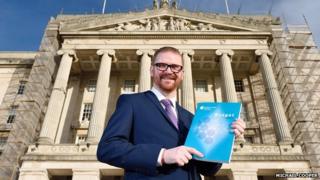 The Northern Ireland Executives's enhanced borrowing powers are the envy of Scotland and Wales, Finance Minister Simon Hamilton has said.
Mr Hamilton hit back at critics who warned the executive's £1.8bn debt burden was a mortgage on NI's future.
Last week, TUV leader Jim Allister described the debt as a "frightening millstone" around Stormont's neck.
Most of the smaller parties on the Northern Ireland Executive voted against the budget.
It was passed with support from the DUP and Sinn Féin.
"On the face of it, that [£1.8bn] is a lot of money," Mr Hamilton said.
"It compares unfavourably if you do a per head of the population calculation compared to the other devolved administrations in Scotland and Wales.
"It is worth noting that both Scotland and Wales would like to be able to borrow more. Particularly in Wales."
After the Stormont House Agreement, which was agreed in December, borrowing is set to increase to £1,000 per head of population - twice the upper limit of comparable Scottish debt.
Mr Hamilton claimed the £1.8bn had financed infrastructure projects that otherwise would not have gone ahead; met costs associated with the Northern Ireland Civil Service equal pay claim; and helped fund a rescue package for savers with the failed Presbyterian Mutual Society.
He also claimed the £700m for a four-year voluntary redundancy scheme for public servants would generate significant long-term savings.
The budget includes an additional £204m for the Department of Health to help protect frontline services and an extra £65m for the Education Department on top of that already allocated in an earlier draft budget to alleviate pressure on classrooms.
The Department of Enterprise, Trade and Investment received £3m for job creation agency Invest NI while the Department for Regional Development was given £5m for bus services in towns and road repairs and the Office of the First Minister and Deputy First Minister is to receive £1.5m for victims' services.