End of Life: Incurable tumour inspires man to make farewell video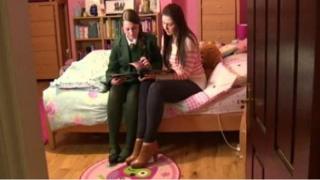 A man with an incurable brain tumour is making a video for friends and family to remember him by.
Bill McCorry, 45, from Lisburn, County Antrim, is considering having part of the video screened at his funeral.
His wife Karen, 44, says the process of making the video has helped them prepare for his death.
The film has been made with Rachel Smith, from Cancer Focus NI, who helps people approaching the end of their lives to write books for loved ones.
Blessed
Mr McCorry, whose brain tumour has weakened him and made him susceptible to infection, described himself as "blessed".
His tumour is growing towards parts of his brain that control his body's vital organs.
"I'm blessed by someone telling me you have time to put things in order," he said.
"I'm blessed by having that time to speak to friends and speak to family.
"Dying, for me, is going home. It doesn't please me that I'll be leaving all these special people behind.
"It doesn't scare me at all. I'm not being a big man. The only thing that frightens me is making sure these ones are okay," he said, referring to his family.
Mr McCorry and his wife have two children; Neysha, 14, and Ryan, 21.
Family
Mrs McCorry, said making the film had helped the couple prepare for his death.
"This whole process has been about talking about life without Bill," she said.
"It's actually made me more open in saying how I feel to Bill."
Referring to the conversations Mr McCorry has had with his friends and family as a result of the video, she added: "Some of that would have gone unsaid if you hadn't have been doing this."
Legacy
Mrs McCorry said: "The making of the video will give us something very precious, and keep him with us."
Writer, Miss Smith, who specialises in helping young people deal with bereavement, has already created a number of books for families where a parent has died from cancer.
Describing the process of making the video and books, she said: "I ask what are you proud of? What do you love about your children? What do you love in life? What do you hold as dear?"
The books hold the authors' memories and wishes, but also some practical advice.
"One man I wrote with was telling his kids how to shave and how to learn to drive a car. Things that he's not going to be there to teach them," she said.
Lorna
Evie and Emma Telford's mother, Lorna, died in September 2014, after living with lung cancer for five years.
Mrs Telford died just before her 50th birthday leaving behind her husband of 25 years, David, 51.
In the book that she wrote for her daughters, she described her feelings at missing their weddings.
"I have already thought in my own mind what it would be like on their wedding days, so in many respects I feel I will be there. I don't want all those special days to be ruined because I'm not there. I want them to remember and to think that 'Mummy would be so proud of me today' and 'Mummy would have loved this."
Emma, 18, said that she was familiar with the memories written about in the book and added: "It's nice to have that little reminder and I think it sometimes can trigger other memories that you may have forgotten about."
Evie, 12, said the favourite message her mother left for her in the book reads: "All I want for you is to be happy and enjoy your life like I have done. I want you to know I am so proud of you and always will be."
Part one in the Living Legacy series will be broadcast at 18:30 GMT on BBC Newsline on Tuesday 27 January.