Michaella McCollum transfer from Peru 'not yet agreed'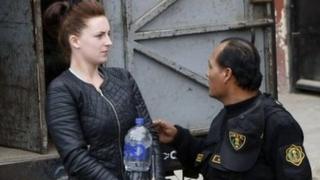 Justice Minister David Ford has said the Peruvian justice ministry has yet to agree to the repatriation of Michaella McCollum.
In 2013 McCollum, from Dungannon, was jailed in Peru for drugs smuggling.
The authorities in Northern Ireland have accepted a request she should be transferred to a jail in NI.
In question time in the assembly, Mr Ford told MLAs that the terms of McCollum's transfer are still to be agreed with officials in Peru.
"It is a matter of public record that an application has been made by Michaela McCollum which has been accepted within this jurisdiction but which has not yet been accepted in Peru," he said.
Mr Ford said how long McCollum would have to serve once she is returned to Northern Ireland remained to be seen.
"The expectation is that sentences will be worked out on the basis of our normal provisions from the time when somebody is repatriated to Northern Ireland," he said.
"That is a matter of some detail which would have to be worked through if there is an agreement by the Peruvian authorities to repatriation."
Mr Ford added that the Dungannon woman would have to pay for her airfare but the cost of her imprisonment in Northern Ireland would come out of the public purse.
"The expectation for any prisoner being repatriated into Northern Ireland is that they pay the costs of their fare," he said.
"Once they are a prisoner here their costs are met by the prison service within the existing prison service budget."
Hidden cocaine
McCollum, from Dungannon, County Tyrone, and Melissa Reid, from Lenzie in Scotland, were were caught with 11kg (24lb) of cocaine in their luggage in August 2013.
They were stopped and searched at Lima's international airport where the cocaine was found hidden inside packages of food.
McCollum and Reid initially claimed they had been kidnapped at gunpoint and forced to carry the drugs, but later admitted the charges.
The pair later admitted trying to smuggle cocaine worth £1.5m from Peru to Spain and were jailed for six years and eight months.