Nelson Cheung Randalstown murder: Teenage girls arrested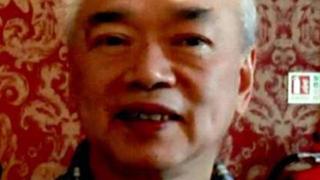 A third teenage girl has been arrested in connection with the murder of Chinese restaurateur Nelson Cheung in County Antrim earlier this month.
Mr Cheung, 65, died after he was attacked and stabbed at Caddy Road, near Randalstown, on 8 January.
Two 16-year-old girls were arrested in Randalstown on Wednesday morning and a 17-year-old girl was detained by detectives on Wednesday evening.
One of the 16-year-olds has since been released pending further inquiries.
The other remains in police custody.
Mr Cheung was attacked after his car was forced off the road. His wife, Winnie, 57, was injured.
Three men have already appeared in court charged with his murder. They deny the charge.