Winston Churchill: The Irishman who taught him gift of the gab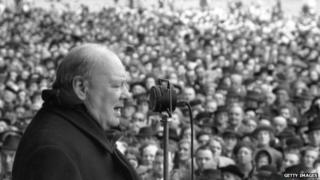 Winston Churchill is known as one of history's greatest orators, and he attributed his legendary speech-making skills to an Irish-born politician who taught him the gift of the gab as a young man.
At the age of 20, Churchill paid a visit to the New York apartment of his mother's friend William Bourke Cockran, where he learned lessons that he would put into practice for the rest of his life.
In one of his most famous speeches in 1946, he popularised the "Iron Curtain" phrase that was vivid enough to encapsulate East-West relations, both physically and psychologically, for the following 45 years.
In that same speech, he took time to praise the Irishman from County Sligo who had been a mentor to him when he was still coming to terms with the death of his father, Lord Randolph Churchill.
Churchill told the audience at Westminster College in Fulton, Missouri: "I have often used words which I learned 50 years ago from a great Irish-American orator, Mr Bourke Cockran: 'There is enough for all. The earth is a generous mother; she will provide in plentiful abundance food for all her children if they will but cultivate her soil in justice and in peace."
Churchill's Iron Curtain speech
"From Stettin in the Baltic to Trieste in the Adriatic, an iron curtain has descended across the continent.
"Behind that line lie all the capitals of the ancient states of Central and Eastern Europe. Warsaw, Berlin, Prague, Vienna, Budapest, Belgrade, Bucharest and Sofia, all these famous cities and the populations around them lie in what I must call the Soviet sphere, and all are subject in one form or another, not only to Soviet influence but to a very high and, in many cases, increasing measure of control from Moscow."
Read the full transcript of the speech
Churchill and the birth of the special relationship
The 'Iron Curtain' was the first phrase his Fulton speech made famous, and the second was the "special relationship" that he believed existed between the UK and the United States.
Churchill's own love affair with the US could be dated back to 1895, when he first encountered Bourke Cockran, a friend of his American mother Lady Randolph Churchill, born Jeanette Jerome.
Sligo historian Padraic Feehily says Cockran met her a few years before in Paris "where seemingly they became lovers".
"It didn't last long but they remained friends, and when he went back to America, he wrote to her and suggested that if young Winston were to visit, he would put him up in his townhouse in New York," he says.
A wealthy lawyer and politician, Cockran had a reputation at that point as the greatest public speaker in the US, while Churchill was at a crossroads and unsure of what to do with his life.
Churchill would take him up on his invitation to stay at his plush Fifth Avenue residence, just off Central Park, and many years later as a seasoned politician himself, he would write about the transformative effect of his visit.
"I must record the strong impression which this remarkable man made upon my untutored mind. I have never seen his like, or in some respects his equal," he wrote in 1932.
"It was not my fortune to hear any of his orations, but his conversation, in point, in pith, in rotundity, in antithesis and in comprehension exceeded anything I have ever heard."
Churchill had a complex relationship with his father, who died in 1894, but Cockran provided necessary guidance and encouragement, predicting that he could take "a commanding position in public life".
Cockran himself was in his early 40s at the time and had carved a lucrative career as a lawyer who could charm juries with his oratorical skills.
He was first elected to Congress in 1886, and his speeches on behalf of the Democratic Party made him a prominent figure.
In an era before microphones, his rich Irish brogue could project far across large crowds.
He would often speak for hours without notes, combining classical and historical allusions with a rich vocabulary, while deploying elaborate facial expressions and gestures for maximum dramatic effect.
Churchill's wartime oratory
"I would say to the House, as I said to those who have joined this government, I have nothing to offer but blood, toil, tears and sweat."
First speech as prime minister, House of Commons, 13 May 1940
"We shall fight on the beaches, we shall fight on the landing-grounds, we shall fight in the fields and in the streets, we shall fight in the hills. We shall never surrender!"
House of Commons, 4 June 1940, following the Dunkirk evacuation
"Let us therefore brace ourselves to our duties, and so bear ourselves that if the British Empire and its Commonwealth last for a thousand years, men will still say, 'This was their finest hour'"
House of Commons, 18 June 1940, following the collapse of France
"Never in the field of human conflict was so much owed by so many to so few"
Tribute to the Royal Air Force, House of Commons, 20 August 1940
"This is the lesson: never give in, never give in, never, never, never, never-in nothing, great or small, large or petty - never give in except to convictions of honour and good sense"
29 October 1941
"Now this is not the end. It is not even the beginning of the end. But it is, perhaps, the end of the beginning."
Speech in London following the victory at El Alamein in North Africa, 10 November 1942
Did Winston's words win the war?
Cockran was 17 when he left Ireland in 1871 to emigrate to the US.
The third son of a well-to-do farming family, he was born in Carrowkeel, County Sligo in 1854. When his father died in a horseriding accident in 1862, the family moved to Sligo town.
After attending local Catholic schools, Padraic Feehily says "the family were in communication with the local bishop, and it was decided that he would further his education in France and possibly go for the priesthood".
He studied at a Marist Brothers college near Lille from the age of nine to 14, when he returned to Ireland to continue his education.
"The family suffered a financial setback and it was decided that he would emigrate to the United States when he was 17," says Mr Feehily.
"He started off in New York working as a porter and then a clerk, then after a year he got a job as a teacher. This was when he developed his interest in public speaking, joining the local debating society."
Cockran was also studying to become a lawyer and in 1876 he passed the New York Bar exams.
His loquacious delivery helped the thrice-married lawyer amass a small fortune but his political career was more sporadic, serving in Congress five times but never for consecutive terms.
But what was the secret of Bourke Cockran's remarkable oratory? Mr Feehily has a theory.
"They say that the evocative Irish style of speaking comes from people having spoken two languages, English and Gaelic, and Cockran was also fluent in French so that could have helped him develop his skills as well," he says.
While Churchill is often seen as the quintessential Englishman, he would never forget the lessons he learned from his Irish mentor.
"He was my model - I learned from him how to hold thousands in thrall," he would later write.
On the 50th anniversary of Winston Churchill's state funeral, BBC Parliament is showing the original television broadcast from 0915 GMT on 30 January. Minute-by-minute coverage is being provided on Twitter @BBCArchive