Conservative Party tweet taunts Labour over Sinn Féin story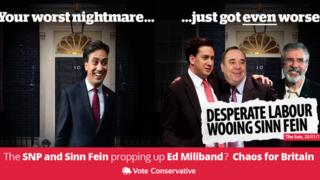 The Conservative Party has taunted Labour over claims that the party had discussed a post election coalition with Sinn Féin.
The Conservatives tweeted a picture with a mock-up of Ed Miliband with his arm around SNP politician Alex Salmond and Sinn Féin leader Gerry Adams.
It captioned the picture "Your worst nightmare just got even worse" and encouraged people to retweet it.
It follows a story in The Sun newspaper on Wednesday.
Labour has described the story as "absolute rubbish".
Responding to the tweet, it said: "This is yet another example of how the Tories intend to fight this election in the gutter. Peace and stability in Northern Ireland is far too important to be used as a party political football."
In a statement, Sinn Féin said: "Sinn Féin's position on Westminster is very well known. We do not take our seats.
"The story which appeared in the Sun is another example of lazy, fantasy journalism which is befitting of this particular newspaper."
Conservative South Leicestershire MP Andrew Robathan, a former Northern Ireland minister, referred to the story in the Commons on Wednesday.
He told MPs: "Apparently the Labour Party has been talking to Sinn Féin about a possible link up after the general election."
As he made the comment, shadow Northern Ireland minister Stephen Pound shouted "absolute rubbish" from the front bench.
Later, shadow Northern Ireland secretary Ivan Lewis added: "The party opposite seems to be wanting to introduce new protocols into the House, believing everything you read in The Sun and demanding the Labour Party takes responsibility for problems that are clearly the responsibility of the government."
Sinn Féin has five MPs but they refuse to take their seats in the Commons.
A Labour Party source told Press Association that Mr Miliband met Sinn Féin's Martin McGuinness during a recent visit to Northern Ireland, but said their talks related only to the peace process and did not touch on the question of post-election coalitions.
"We are working towards a Labour majority and we are only working towards a Labour majority," they said.
"It is untrue that Ed held any sort of coalition talks. The implication that Ed is cosying up to Sinn Féin is untrue."