How will DUP respond to debate decision?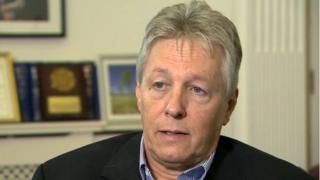 The BBC and ITV have set out their logic for not inviting the DUP to their UK-wide election debates.
In a joint letter the broadcasters argued that, even though the DUP is the fourth biggest party at Westminster, it would not be fair for them to invite it alone to share a stage with other UK parties.
To comply with their duty of impartiality, the broadcasters say they would have to include all five of Northern Ireland's main parties. This would lead to a programme that would include 12 participants, five of which would be representing parties that 97% of the UK audience cannot vote for.
'Irrational'
Will the DUP respond by saying "fair enough" and accepting the BBC offer to broadcast a special Northern Ireland debate across the UK (presumably, although I have no inside knowledge, on the News or Parliament channels)?
This seems unlikely given Peter Robinson's initial response labelling the BBC director general Lord Hall's position as "irrational".
The DUP, like everyone else, can do the maths and may point out that 95% of the UK population live in regions where you can't vote for Plaid Cymru, which has five fewer MPs than the DUP, whilst 91% of the UK population live in areas where you can't vote for the SNP, which has two fewer MPs than the DUP.
Lord Hall will counter, as he did in his letter to Peter Robinson, that the current number of seats held is "not a conclusive factor".
Battling for votes
So other recent elections, the number of voters for each party, and opinion polling, all form part of the mix. Sinn Féin, for example, may point out that although they won fewer Westminster seats than the DUP in 2010, they got more votes.
Indeed both Sinn Féin and the DUP got more votes than Plaid Cymru, although fewer than UKIP, the SNP, the Greens, or indeed the BNP, who aren't on the list of invitees to the latest election debates.
Another argument for keeping the Northern Ireland debate hermetically sealed is that, unlike Plaid Cymru and the SNP, the NI parties are not battling with the British parties for votes.
This is true, but, as Evelyn Waugh might put it, only "up to a point, Lord Copper".
Ed Miliband reiterated only last week that he won't stand Labour candidates in Northern Ireland as he wishes to remain an "honest broker".
However, the Conservatives have been standing candidates in Northern Ireland for the last 25 years.
UKIP and the Greens are more recent entrants to the local political scene, but both have an MLA at Stormont and both have elected councillors in Northern Ireland.
It's fair to say none of these parties are, as things stand, favourites to win a Westminster seat, although as the shock defeat of Mr Robinson in East Belfast in 2010 illustrated, small parties can influence results (it was the Traditional Unionist Voice's votes that arguably made all the difference).
Legal option
The DUP is keeping the option of a judicial review open, but presumably it won't start running up legal bills at least until it knows whether the debates will be a reality.
In the meantime the publicity generated by the debates controversy serves as a useful sidebar to their main message, which is that they could play a key role in a future "hung parliament". They plan to launch a new billboard on this theme next week.
Whilst the DUP is sticking to traditional billboards, the Conservatives drew a lot of publicity for their Twitter mock-up of a poster featuring Ed Miliband and Gerry Adams.
The Tory attack was based on a Sun story about alleged secret labour Sinn Féin talks which Labour called "untrue nonsense" and Sinn Féin branded "pure fiction".
The Sun's Kevin Schofield responded to me on Twitter on Wednesday night by pointing out that his story was a follow-up to a report broadcast by Channel 4's Gary Gibbon in which Sinn Féin's Pat Doherty had said members of the shadow cabinet had asked him bluntly if Sinn Féin MPs would take their seats and he had replied "no".
Sinn Féin says that far from being a talk about a "post election coalition" as the Sun reported, their MP was referring to a "general conversation" with Labour MPs about the hypothetical circumstances in which Sinn Féin might end abstentionism.
A Sinn Féin source said its MPs are asked the question all the time at Westminster by politicians of all hues, including unionists, and the answer is always an emphatic no.
If you want to see the full context of Pat Doherty's remarks, Gary Gibbon's report can be viewed here.
If you can't get enough on Northern Ireland's role in a hung parliament, then take a look at this week's edition of The View which includes a report from Stephen Walker on the options once the debates and the election are done and dusted.