NI farming industry income drops by 17%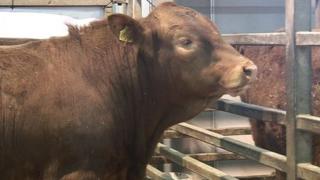 The Northern Ireland farming industry saw its income fall by 17% to £298m in 2013, driven by a big fall in prices for the beef sector.
The income figure is worked out by assessing the value of agricultural output and subsidies and subtracting the cost of production and finance.
The Single Farm Payment subsidy of £246m represented 87% of total incomes.
Total output fell by 3% to £1.89bn while input costs were also down 3% to £1.44bn
However, incomes were driven lower by falling prices.
'Tough time'
The output value of cattle fell by 15% to £376m as a result of a 5% fall in volume and an 8% fall in the average producer price.
Dairying, which is the largest sector, saw the average farm-gate milk price down by 6% in 2014 to 29.7p per litre.
Agriculture Minister Michelle O'Neill said she was concerned by the figures.
"Farmers have had a very tough time over the past year," she said.
"The total income from farming figure has significantly reduced and the farm level estimates show that all sectors have been affected."
Ms O'Neill said that falling prices have been the major contributor to the downturn and while subsidies provide a buffer, more must be done to improve efficiency and competitiveness.