Former Carrick Grammar captain Robert O'Callaghan sentenced over assault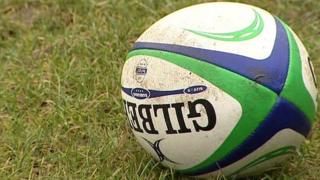 The captain of a school rugby team who assaulted an opposing player on the pitch during a Schools Cup match has been given a conditional discharge.
It happened in January 2013 during a Schools Cup match between Carrick Grammar and Belfast Royal Academy.
The on-pitch assault left the injured schoolboy requiring surgery for a partially detached retina.
Robert O'Callaghan, 20, from Sunnylands Avenue, Carrickfergus, admitted assault occasioning actual bodily harm.
A prosecutor told Belfast Crown Court judge that the assault occurred with about 10 minutes left in the game.
O'Callaghan - who was captaining Carrick Grammar - "came together" with the BRA player in a tackle, and in the aftermath got to his feet first.
The prosecutor said there was then a "stamp, kick or foot being caught", adding it was the prosecution's case that "what happened fell outside the course of the game and amounted to an assault".
The prosecutor also said there was "never any suggestion there was a deliberate intention to cause injury" but that O'Callaghan "was reckless as to the consequences".
'Significant eye injury'
The court heard that when O'Callaghan was interviewed by police about the incident, he accepted he had been involved, but made the case that what occurred on the pitch was accidental.
The prosecutor said the facial injury caused to the opposing player, was a "significant eye injury" that included a bruise to the cornea and a partial detachment of the cornea that required surgery.
He now wears glasses as a result of the incident.
It emerged that the referee during the match did not see the incident, O'Callaghan was not sent off and no further action was taken within rugby circles.
However, following an internal investigation, O'Callaghan was not permitted to play rugby for the rest of the school term.
A defence barrister said his client, who was 18 at the time, came before the court with a completely clear criminal record.
He also revealed that since the incident, O'Callaghan was selected to play for the Ulster Under 20 Squad and had trained with them in Belfast.
The defence barrister also said that having spoken to the principal of Carrick Grammar, he had never witnessed O'Callaghan being aggressive either on or off the pitch and that in his view this was a "one-off incident."
Branding the match as "highly charged", the defence barrister told the court his client "offers his apology for his actions".
Handing O'Callaghan a two-year conditional discharge, the judge said O'Callaghan's plea reflected that he accepted he was reckless and he accepted that during rugby games, players could lose their tempers.