Howard Primary School dropped as polling station after loyalist protest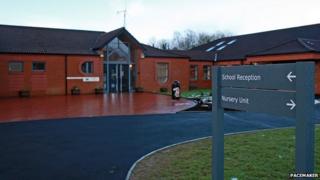 A primary school will no longer be used as a polling station after loyalist protesters demonstrated outside the school during last year's elections.
Alternative arrangements are being made for people who have, until now, cast their vote at Howard Primary School in Moygashel, County Tyrone.
The decision was made by the chief electoral officer Graham Shields.
He said it would help to ensure all voters can exercise their right to vote in a "peaceful and safe environment".
'Hostile'
During the European and council elections in May 2014, a group of loyalists held a protest outside Howard primary school.
Observers from the Electoral Commission were at the school and raised concerns about what they described as a hostile environment.
The Electoral Office has now published details of what polling stations will be used in Northern Ireland until 2019. Howard Primary School is not on the list.
Voters who previously used the school will now be assigned to polling stations in Dungannon and Eglish.
'Serious concerns'
The MP for Fermanagh South Tyrone, Sinn Féin's Michelle Gildernew, has welcomed the decision to close Moygashel polling station. The move has been criticised by the DUP's Lord Morrow.
Ms Gildernew said that the presence of a large number of hostile flag protestors outside the polling station in Moygashel on election day for the European election deterred many people from voting and exercising their democratic right.
She said she had expressed "serious concerns" to the commission following last year's loyalist protest.
'Regrettable'
"This is a victory for common sense and one that will now allow the democratic process in this area to go unhindered," she added.
In a statement, Mr Shields said: 'It is regrettable that electors from the Moygashel and Coolhill wards will be inconvenienced by having to travel further to cast their vote on polling day.
"However, my priority is to ensure that all voters, regardless of their background, have the opportunity to exercise their democratic right to vote in a peaceful and safe environment.
'Disgrace'
"I believe this change of venue is necessary to help achieve that objective, particularly in light of the concerns expressed following the elections in 2014."
The DUP MLA Lord Morrow said the decision was "regrettable and nothing short of a disgrace".
"Moygashel people have now been deprived of a polling station in their vicinity," he said.
"There is no other area in Northern Ireland where you have a polling station the size of Moygashel, where 1450 people vote, and they are told they can't vote.
"The alternative is in Dungannon town, it's a congested area and it is anything but convenient.
"There was no incident with the flag protest. It did not interfere with people coming and going to vote."