Protest held against DUP's 'conscience clause' bill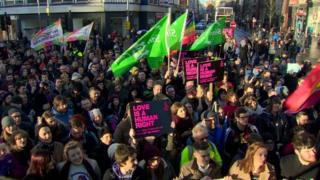 Over 1,000 people gathered at Belfast's City Hall on Saturday to protest over the DUP's conscience clause bill.
The crowd was addressed by politicians from Alliance, Sinn Féin and SDLP, as well as community leaders.
Paul Givan's private member's bill aims to create a legal exemption on grounds of strongly held religious beliefs.
He sought to introduce a "conscience clause" into equality law in NI, following legal action taken against a Christian-owned bakery.
The Equality Commission has brought a civil case against Ashers Baking Company after it refused to bake a cake with a pro-gay marriage slogan.
The row first emerged in July, when Ashers revealed it was facing possible legal action over its decision to decline a customer's request.
The cake had been ordered in Belfast by a gay activist for a civic event in Bangor, County Down, marking International Day Against Homophobia and Transphobia.
Ashers Baking Company said it had declined the request because it was "at odds" with its Christian beliefs.
Mr Givan argued that the law had to be rebalanced.
He said it was a choice between a society "that can make space for difference or one that is intolerant".
Mr Givan said the Equality Commission's legal action had "created a hierarchy of rights where all minorities are not to be treated equally".