Raymond Allardyce admits to wounding Belfast shop owner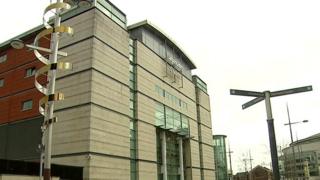 A 50-year old-man who stabbed a Belfast business owner has expressed his "regret and remorse" for the attack, a court has heard.
Raymond Allardyce of Bannview Heights in Banbridge, admitted wounding Denis Wolsey, 67, with intent to cause him grievous bodily harm.
The incident happened on the Upper Newtownards Road on 16 June last year.
Allardyce also pleaded guilty to a second charge of possessing a knife in a public place.
After both guilty pleas were entered, a defence barrister told Belfast Crown Court that Allardyce had "accepted responsibility for the physical matters".
Allardyce initially faced a charge of attempting to murder Mr Wolsey outside his tackle shop.
However, after he pleaded guilty to the wounding charge on Monday, a prosecutor said the Crown was accepting that charge, and revealed the attempted murder charge would not proceed.
The defence lawyer said his client had asked him to express his "deep regret and remorse" about the injuries to Mr Wolsey.
"He hopes Mr Wolsey can find some degree of comfort or re-assurance in his very very deeply felt regret," he said.
Although no details of the attack emerged on Monday, a previous court hearing was told that Allardyce attacked the shop owner after he was bitten by Mr Wolsey's dog while trying to feed it crisps.
The judge agreed to release Allardyce on continuing bail, but warned him not to take this as an indication of the sentence he will receive when he appears in court again on 6 March.