Maghaberry prison: Huge increase in drug finds over past two years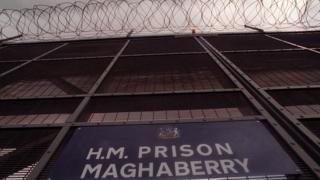 There has been a huge increase in the number of drugs finds in Maghaberry prison, County Antrim, over the past two years.
Figures obtained by the BBC show that there was an increase of more than 400% in the number of drugs finds in 2013, compared to 2012.
There were 452 drugs finds in the high-security jail in 2013, compared to 87 in 2012.
During 2014, there were then 224 drug finds in Maghaberry prison.
Each drug find can involve the discovery of multiple quantities of drugs.
'Easily available'
Maghaberry is the largest prison in Northern Ireland with just under 1,000 prisoners.
The Northern Ireland Prison Service said that the rise could be explained by improved targeting of searches.
The drug most seized in the prison was diazepam, along with other illicit prescription drugs, although cannabis, cocaine and heroin were also among the drugs seized.
A recently released prisoner told the BBC that he had become hooked on drugs while in prison, and that drugs were easily available.
"For a gram of heroin on the street that we'd pay £25 for, in the jail you're getting £100 cash in your hand," the former inmate said.
"That's the main choice of drug - the prison's awash with it; heroin and blue tablets - diazepam."
The Northern Ireland Prison Service also confirmed that the number of drug finds had risen at both Magilligan and Hydebank prisons.
'Concerning'
In Magilligan prison, County Londonderry, there were 17 finds in 2012 and 25 in 2013. This increased to 57 in 2014.
In Belfast's Hydebank prison, which includes the Young Offenders Centre and Ash House Women's Prison, there were 22 finds in 2012, 52 in 2013 and 64 in 2014.
The most recent Criminal Justice Inspection report into the safety of prisoners, published in October 2014, said that the quantity and availability of drugs within prisons was "concerning".
It also stated that drugs "have been responsible for a number of deaths in custody and other serious incidents, and are a cause of a significant proportion of the bullying which takes place".
Responsibility for tackling the problem of drugs and addiction in prisons in Northern Ireland is shared between the Prison Service and the South Eastern Health and Social Care Trust.
The trust has introduced a 'supervised swallow' programme in all three prisons to try ensure that prisoners are only taking the specific medication which has been prescribed to them.
The trust also provides addiction services in each prison.