Danske Bank's Northern Ireland profits 10 times better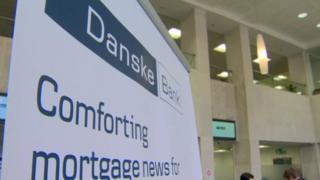 Danske Bank in Northern Ireland made pre-tax profits of £117.5m in 2014 - a more than tenfold improvement on the previous year.
Turnover was up 12% from £200m to £224m, while profits rose from £11.4m
An improving property market meant Danske "wrote back" almost £38m of impairment charges. This means money that had been set aside to cover expected bad loans can now be released.
Underlying profits, excluding writebacks, were up 35% to £80m.
Danske Bank UK chief executive Gerry Mallon said: "Improved underlying performance, combined with a substantial fall in impairments as property asset values recovered, has helped deliver strong profitable growth for the full year."
Mr Mallon said it had been a good year for asset finance, which is companies borrowing to buy plant and equipment.
New lending in that sector increased by 25%, which Mr Mallon said was "a good indicator that economic recovery has begun to take root".
However, he cautioned that this has "not yet translated into a significant increase in demand for business lending overall, which remained modest".
The bank's Danish parent company reported a profit of £386m, which was almost half the figure for 2013.
It had warned the market late last year that profits would be lower due to impairment charges.
The bank also said it would begin to phase out its personal banking services in Estonia, Latvia and Lithuania.