Calls to reinstate crash barrier at site of two fatal accidents in Belfast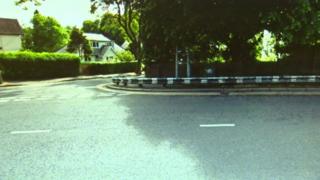 A crash barrier removed from a fatal accident black spot on a main road in Belfast should be replaced, according to a leading expert in highway safety.
Enda Dolan, an 18-year-old student, died at the scene after he was knocked down on the Malone Road last October.
The barrier had been in place for many years, following a fatal crash in 1977.
But just three weeks before Mr Dolan was killed, it was removed following an order from the Roads Service at the Department of Regional Development.
'Matter of urgency'
Civil engineer John Addy has told the BBC the barrier should be reinstated.
"I would have expected the barrier to be replaced or some other mitigating measures put in place to alleviate the danger that is in place at that corner," he said.
"My recommendation would be to either put the barrier there to replace the one that was there, or take some other mitigating measures. To my knowledge there have been no other mitigating measures put in place so therefore a barrier should be put back."
Mr Addy said he feared there could be another serious accident at the same bend on the Malone Road.
"There is a likelihood there could be another occurrence. There was a barrier at that location for a reason," he said.
Mr Dolan, a Queen's University student from Killyclogher in Omagh, County Tyrone, died after he was hit by a van at the junction of Sans Souci Park and the Malone Road on 15 October 2014.
Two men were arrested and later released on police bail after the crash.
The victim's father, Peter Dolan, questioned why the barrier has still not been replaced.
"How long does it take to put up a bit of steel? What happens if another student or a pensioner or someone else is walking down that road and the same thing happens?
"The barrier should be replaced as a matter of urgency," he said.
The vehicle restraint was removed following a request by Roads Service - recently renamed Transport NI - at the Department of Regional Development (DRD).
It was erected at the bend following a previous fatal accident in 1977 which claimed the lives of two other young students who were passengers in a car that crashed there.
So far, the DRD has declined to say why the barrier was removed. When asked, a spokesperson said it would be "inappropriate to comment because of an ongoing police investigation into the accident".
'Sincere sympathy'
But the DRD spokesperson added that Transport Minister Danny Kennedy was currently considering the replacement of the barrier.
"Minister Kennedy had a private meeting with the Dolan family recently and expressed his sincere sympathy following the death of their son Enda," the minister's spokesperson said.
"He confirmed to the Dolan family that he is currently considering the replacement of the barrier with his officials."
But so far no decision has been made.
Both Sinn Féin and the SDLP have backed calls by the victim's family to have the barrier replaced.
Sinn Féin MLA Declan McAleer has raised the issue at the Regional Development Committee.
SDLP Belfast City councillor Declan Boyle said: "This is not some street light that is not working or an overgrown tree we are talking about. This is a crash barrier that was put there for a reason.
"It should not have been removed and it ought to be reinstated immediately."