Presbyterian moderator Ian McNie 'would have concerns about woman leader'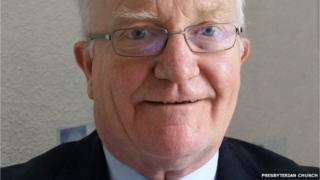 The new moderator of the Presbyterian Church has said he would have concerns about a woman taking on the leadership of the church.
Rev Ian McNie, 64, was nominated by 12 out of the 19 presbyteries who met across Ireland on Tuesday evening.
Rev Liz Hughes, who was one of the four up for nomination, was outvoted for a second year.
Mr McNie said he shared the view of many people and that was based on their interpretation of the Bible.
"Those who are not all that in favour, if you want to put it like that, of women's ordination don't hold that point of view from the position of personal preference," he told the BBC's Good Morning Ulster.
"They hold that position from the point of view that as they interpret the scriptures, the leadership role within the church is not necessarily the leadership role within society - that men and women complement each other, and consequently, possibly that's why many people have taken the view that they take and that's why the church has not embraced the election of a woman moderator.
"I would have a conviction that, like many other people within all major denominations, that there are some concerns about that issue, and yes, I would share that conviction as well."
Mr McNie said the Presbyterian Church had led the way in ordaining women, and paid tribute to its first woman minister Ruth Patterson as "a great ambassador for women within the church".
"The Presbyterian Church chose to go down the route of ordaining female ministers in 1974, and when that decision was taken, corresponding to that the church was saying at that point we're prepared to have a woman moderator if she's elected," he said.
He will take over as moderator from Rev Michael Barry and will officially take up office as the 176th moderator on 1 June.