The Truth About Cancer: BBC One documentary shows realities facing Northern Ireland cancer patients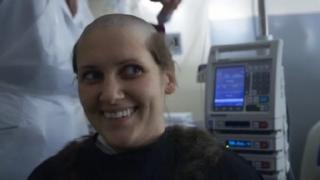 It is something everyone thinks will never happen to them.
Despite being bombarded with campaigns on radio and TV, you are never quite prepared to deal with hearing those small, yet earth-shattering, words: "You have cancer".
And yet that is the reality that one in three people in Northern Ireland will face at some point in their life.
A new BBC One Northern Ireland documentary, The Truth About Cancer, explores the issues facing several cancer patients, and shows the impact the illness has upon their families and loved ones.
It also follows campaigns by a number of cancer sufferers fighting for better access to cancer drugs.
'Death sentence'
Brian was diagnosed with multiple myeloma, an incurable cancer of the bone marrow, in 2006.
The 78-year-old sadly passed away during filming, but spoke of his frustration at not being able to get access to drugs that could prolong his life.
"It's like a death sentence," Brian told the programme.
"I paid my taxes, I was manager of a company that made money and paid corporation tax. We contributed to the UK exchequer in every sense, and now, not having the drugs available, well, they're going to kill me unless they change their policies.
"I don't know whether that's manslaughter, it could even be murder. I'm not going to give up the fight against cancer, but I do need drugs to help me."
'Coffin'
Brian's daughter, Tracy, has also faced a difficult battle with cancer.
The mother-of-two was diagnosed with breast cancer two years ago. She speaks about the impact her illness had upon her two young boys.
"Both kids have reacted differently. The older one, jut switched, and he started getting aggressive and then the tears started," she said.
"Eventually he said every time he tried to go to sleep, images came into his head - of a coffin - and it was either me or grandpa Brian lying in the coffin. He felt guilty for thinking like that, like I might not survive."
'Survival rates'
Despite the increase in the number of people being diagnosed with cancer each year, the documentary also explores the scientific advances that are giving patients in Northern Ireland a higher chance of survival than anywhere else in the UK.
The vice-chancellor of Queen's University in Belfast, Prof Patrick Johnston, said that Northern Ireland is now "world-leading" in cancer research.
"It's the international cancer world who have now decided we are world-leading," he says.
"When I came to Northern Ireland I made comparisons to eastern Europe about survival rates, we were worse than some eastern European countries.
"Now, we have one of the most advanced systems, where patient outcomes are one of the best in the world."
Prof Johnston told the programme that lung cancer is one of the forms of cancer that is being treated better in Northern Ireland than in many other UK regions.
'Benefits of hope'
The documentary meets several different cancer sufferers, of all ages, and looks at their determination and bravery throughout every step of their illness.
Una Crudden campaigned to raise awareness of ovarian cancer after she was diagnosed with the disease in 2008.
Sadly, 60-year-old Una also passed away during filming, but before she died she took her campaign to Stormont to lobby politicians for better access to tests and drugs.
Prof Joe O'Sullivan, clinical director of the Cancer Centre, said it was important for patients to remain positive after a diagnosis.
He said: "One of the most important messages in the oncology world and in cancer services that I tell staff about is that patients require hope - without that it's very difficult to face into the different treatments we propose for them or bad prognosis.
"We've seen massive benefits for families as well as patients themselves that come from that hope."
That hope is certainly imbued in Belfast teenager Sarah Lynas, who is undergoing stem cell treatment for non-Hodgkin's lymphoma for the second time.
"This is the last time I'll have cancer," she said, determined to beat the disease.
"Cancer's not the death sentence people think it is, there's always something you can do for yourself."
The Truth About Cancer will be broadcast on BBC One Northern Ireland on Wednesday 4 February at 22:35 GMT