Goddard inquiry: Northern Ireland will not be included in child abuse investigation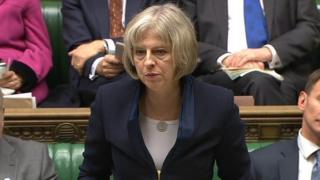 Northern Ireland will not be included in the new statutory inquiry into historical child sexual abuse being set up by the government in Westminster.
Home Secretary Theresa May told the House of Commons that the inquiry will be confined to England and Wales.
Campaigners had called for Northern Ireland to be included, demanding that a fresh investigation of the Kincora scandal form part of a UK-wide inquiry.
But Mrs May said the Hart Inquiry in Northern Ireland was already under way.
'Blocked'
She was referring to the Historical Institutional Abuse (HIA) inquiry, which is being chaired in Banbridge, County Down, by retired judge Sir Anthony Hart.
Sir Anthony's team is examining allegations of child abuse in children's homes and other residential institutions in Northern Ireland over a 73-year period, from 1922 to 1995.
Amnesty International and other campaigners have recently led calls for the home secretary to include Belfast's Kincora Boys' Home in the Westminster inquiry.
Three senior care staff at the east Belfast children's home were jailed in 1981 for abusing 11 boys in their care.
However, Amnesty have complained that previous investigations have never uncovered the full extent of the Kincora scandal, alleging that the Ministry of Defence and MI5 "blocked" some police inquiries.
'Geographical scope'
The home secretary told the House of Commons that there were "good reasons for confining the inquiry's scope to England and Wales".
"The Hart Inquiry in Northern Ireland and the Oldham Inquiry in Jersey are already under way, while the Scottish government has announced its own inquiry into child abuse but I shall discuss this with the new chairman," Mrs May said.
"In the event that the geographical scope remains the same, I propose that a clear protocol is agreed to make sure that no information falls through the cracks, and no people or institutions escape scrutiny, censure or justice."
East Belfast MP Naomi Long said that while the home secretary said it was her view that Kincora ought not to be part of the inquiry, she had undertaken to discuss this matter with the new inquiry chair.
"Whilst I accept in part her argument that recommendations for institutions would deal with different structures in England and Northern Ireland, she fails to acknowledge with respect to Kincora this has already happened," she said.
"The crucial element is in respect of the alleged involvement of the intelligence services in covering up abuse and recommendations in this regard would be best handled with similar allegations being investigated as part of the new inquiry."
The home secretary told MPs she has appointed New Zealand High Court judge Lowell Goddard as the head of the new inquiry into historical child abuse in England and Wales.
Ms Goddard is the third person who has been asked to investigate the abuse claims.
Since the original child abuse inquiry was set up last July, two chairwomen have resigned, amid concerns over their links with the Westminster establishment.