Man in High Court bid to keep gender history secret after sex change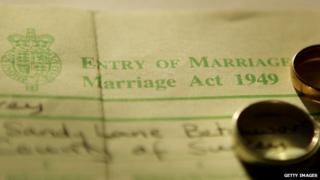 A Northern Ireland man who wed his long-term partner after officially changing sex has launched a High Court bid to have his gender history kept secret.
The man was born biologically female, but has become in legal terms, a man.
He is not being named for legal reasons.
Lawyers for the man claimed his privacy rights had been breached, as the couple's earlier civil partnership now appears on their marriage certificate.
They want publicly-accessible Department of Finance and Personnel (DFP) records to be modified, to categorise the man as being previously single, in an attempt to ease his distress.
'Compassionate'
The DFP has responsibility for all public records.
A lawyer told Belfast's High Court: "This is not some kind of sexually deviant lifestyle choice.
"This is simply a condition that people are born with and we should be compassionate and attentive to their individual needs."
The man, despite being born biologically female, has lived as a man since adulthood.
Under the terms of the civil partnership, the couple were both classed as women.
The man subsequently applied for a gender recognition certificate to secure legal status as a man.
He was found to be suffering from gender disorder and is receiving continuing medical treatment.
'Modest modification'
The court heard that surgery is not required for the gender change to be officially recognised, but to complete the process the couple had to annul their civil partnership.
Although they got married after the man was granted a legal change of gender, the case centres on information included on the wedding certificate.
The document states that a previous civil partnership was either dissolved or annulled.
The man's lawyers claim that the certificate also reveals one of the couple had a different gender history.
They are now bringing judicial review proceedings against the DFP.
The man's lawyers told the court: "The very simple solution to this would be to record the status in this certificate as single.
"Or, if that's not possible, it would require a very modest modification to the regulations."
'Secret'
A lawyer responding for the department, argued that the legal dispute was over a simple recording of facts and contended that privacy could not be expected in a marriage process.
"There's been no deliberate publication of his gender history and no deliberate publication of his health information," he said.
"There's simply been an accurate recording of the empirical facts. Marriage in this society does not take place in secret, nor does civil partnership."
The hearing was adjourned until Friday.