Lurgan alert: Belfast to Dublin railway line re-opens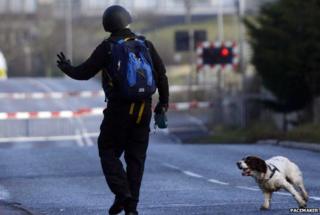 The Belfast to Dublin railway line has re-opened, after a security operation in Lurgan, County Armagh, ended,
The alert that focused on the Bells Row railway crossing at Antrim Road followed reports that a device had been left near the tracks.
However, police said "nothing of a suspicious nature" had been found.
The alert began on Wednesday evening. The Lisburn to Portadown line re-opened at about 15:00 GMT on Thursday.
The Antrim Road and Cornakinnegar Road in Lurgan have also been opened to traffic again.
"I understand the extent of disruption this alert has caused to both the local residents and to train passengers, and I can assure all those affected that the operation was carried out with utmost professionalism in order to ensure the safety of all," Ch Insp Paul Reid said.
Meanwhile in north Belfast, police said a viable pipe bomb had been made safe in North Queen Street.
The deputy mayor of Craigavon, Sinn Féin's Catherine Seeley, condemned those behind the Lurgan alert.
"This is another attack on the local community and on commuters travelling to and from Belfast," she said.
"Those responsible should be under no doubt that it has done nothing except disrupt the lives of people going about their daily business."
Police have also been dealing with a number of other security alerts in Belfast.
In the north of the city, a suspicious object examined by a bomb team was declared a "viable pipe bomb-type device".
A number of residents in the North Queen Street were moved from their homes during the alert. The road has now reopened.
In Belfast, close to the city centre, a bomb team has been sent to examine a suspicious object at Friendly Street, in the Markets area. A number of homes have been evacuated.