Fr Michael Duffy: Baffled priest praised for Celtic move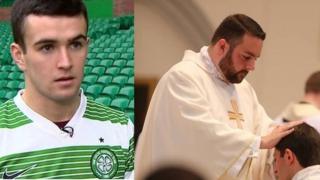 A priest in New York has spoken of his surprise at receiving online messages congratulating him on signing for Celtic Football Club.
Fr Michael Duffy shares the same name as the young Derry City winger who has signed for the Scottish champions.
While the two men are different in many ways, the only thing that separates them on Twitter is an underscore.
"I started receiving congratulations messages from people in Ireland," Fr Duffy told BBC Radio Foyle.
"I was looking at their names and thought, my goodness, I don't know who these people are and why they're congratulating me.
"I finally found out that the other Michael Duffy signed with the Celtics - I've never in my life before been confused with a professional athlete, so it was a first for me.
"My Twitter handle is @michaelduffy while his is @michaelduffy_ with an underscore after it."
Fr Duffy admits he had never heard of Celtic or Derry City before the mix-up.
"I only watch soccer if it happens to be at the world cup or if someone else is watching it, but here in New York we have a lot of international priests coming to us from Ghana or South America, so I'd watch a game with them," he said.
However, he says he wishes the young footballer well and congratulated him on achieving his boyhood dream of playing for Celtic.
"We're proud to be Duffys today," he said.