Van to celebrate 70th birthday with Cyprus Avenue gig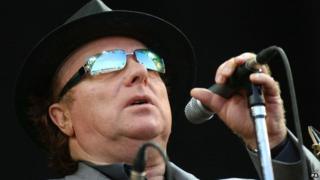 Van Morrison is to celebrate his 70th birthday by playing a concert in the street immortalised in one of his most iconic songs.
The promoters, East Belfast Partnership, said the singer will perform at Cyprus Avenue on 31 August.
The song Cyprus Avenue featured on the landmark 1968 Astral Weeks album.
The singer is the headline act at the Eastside Arts Festival. Tickets will go on sale on Monday 2 March.
Morrison has described Cyprus Avenue as a place where there is a lot of wealth.
"It wasn't far from where I was brought up and it was a very different scene," he said.
"To me, it was a very mystical place. It was a whole avenue lined with trees and I found it a place where I could think."
Last August, the Belfast musician played three concerts at his former school, Orangefield High, in east Belfast.