Ice swimmers set new world records over 1km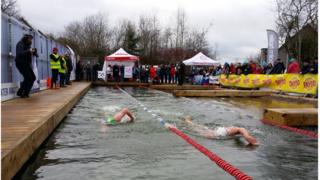 Two international ice swimming records have been broken, and two new ones set at the Ireland Ice Swimming Championships in County Armagh.
The new sport of ice swimming requires people to swim in water colder than 5C.
Wetsuits are not allowed.
Henri Kaarma of Estonia broke the world record for the 1 km distance in 13 minutes 58 seconds, while Northern Ireland's Donna Cooke beat the woman's record in 14 minutes and 11 seconds.
Molly Conroy, 18, and Jon Glover, 17, both from Northern Ireland, set records in the junior category.
The results have yet to be ratified by the International Ice Swimming Association.
More than 20 swimmers covered 40 laps of an outdoor freshwater pool.
Meditation
Race organiser Podraigh Mallon, who has swum across both the English Channel and the North Channel, said: "If you're looking to bring your body and mind to the limit, ice swimming is the biggest challenge you can ever do.
"To do this sport you have to fight so so hard. It's 90% mental strength, 10% physical strength. It is a form of meditation."
Mr Mallon has been supporting 14 ice swimmers with a training programme that includes psychological training and medical training to understand how the body deals with extreme cold.
During races, competitors are monitored for signs of hypothermia and officials can stop swimmers whom they judge to be at risk.
Swimmers use techniques like counting to distract themselves from the cold.
Reheat
They are often unco-ordinated and short of breath when they exit the water. It can take an hour for competitors' bodies to return to their normal temperature.
Hot towels and a sauna recovery room are used to warm them up. Swimmers feel a strong burning sensation as feeling returns to their body, especially in the hands and feet.
Mr Glover, who has been training for the event for four months, said that his recovery time had improved with practice. He is considering attempting the one mile distance event.
International
Competitors travelled from Russia, Estonia, Germany and the Republic of Ireland to take part in the event.
Alexander Brylin, one of two Russians taking part, has previously swum in Siberian waters at temperatures below freezing.
The results of the competition will be used to determine who can qualify for the first International Ice Swimming Association World Championship in Murmansk, Russia on 20 March.
The organisers hope that the sport will be considered for the Olympics.