Six Nations 2015: Ben Robinson's father in rugby safety call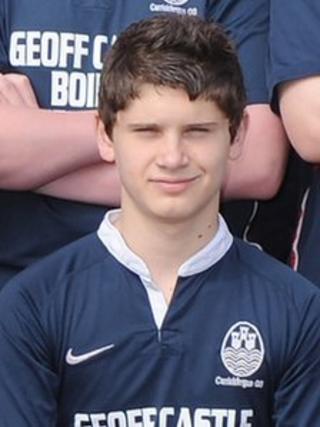 The father of a boy who died following concussion from a school rugby match has said a Welsh player should have been removed from a Six Nations game.
Governing body World Rugby has asked for a report into why George North was allowed to play on in Friday's game, despite heavy blows to his head.
In 2011, 14-year-old Ben Robinson from County Antrim collapsed at the end of a game and died later of brain injuries.
His father, Peter, said he was surprised North was allowed to play on.
"It just reminded me of Ben's video. You do not expect this at elite level, when you think of the back-up and the protocols that at are in place," Mr Robinson said.
"The protocols are quite strict - they say suspected loss of consciousness or confirmed [loss] of consciousness. He should have been removed."
'UK first'
Ben Robinson's death four years ago led to concussion awareness programmes being organised by schools in Northern Ireland and the Irish Rugby Football Union.
The Carrickfergus Grammar pupil was in several heavy tackles during a January 2011 game against Dalriada, and was momentarily knocked out at the start of the second half of play.
At his inquest in 2013, the coroner ruled that Ben had died as a result of second impact syndrome - which happens when a blow causes swelling to the brain before it has recovered fully from an earlier injury.
It was first death of its kind recorded in Northern Ireland and the coroner at the hearing in Belfast said it was also "probably" the first such case in the UK.
His family have campaigned to highlight the dangers of head injuries in both schools and in the professional game.
North received a boot to the head while on the floor during the first half of the match against England on Friday.
He was off the field for eight minutes, but returned to the action after passing a concussion assessment.
However, midway through the second half, North suffered another blow to the head, falling to the floor.
Welsh Rugby Union (WRU) said the second incident was not seen at the time.
Even though the player currently "has no signs and symptoms" they are treating him as concussed after studying video footage of the match.