HIA inquiry: Man defends treatment he received from nuns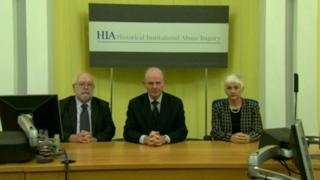 A middle-aged man has defended nuns who cared for him as an orphan at the Nazareth Lodge care home in Belfast.
Giving evidence at the Historical Institutional Abuse Inquiry (HIA), the witness said he "never witnessed any violence or abuse by nuns".
However, he said he was beaten by two domestic workers who deny the claims.
The inquiry is examining allegations of child abuse in children's homes and other residential institutions in Northern Ireland from 1922 to 1995.
Paying tribute to the Sisters of Nazareth, the witness said he was "grateful for their care and support" during the first 10 to 11 years of his life and said he thought "very fondly" of the nuns.
Another witness claimed he was beaten by one nun against whom other allegations of cruelty have been made.
The inquiry also heard more claims of physical and sexual abuse by older boys against younger boys at the home.
Last week, MLAs approved an extension to the duration of the inquiry following a request from the chairman, retired High Court judge, Sir Anthony Hart.
He asked for extra time because of the number of witnesses who have come forward to testify and the amount of allegations he has to investigate.
It had been due to deliver its final report in January 2016 but has been granted more time due to its workload.
It will now run for a year longer than originally planned.
The HIA inquiry was first announced in 2010 and was formally set up by the Office of the First and Deputy First Ministers (OFMDFM) on 31 May 2012.
It is not the first time MLAs have made changes to the HIA inquiry's timescale.
When it was originally announced in 2010, ministers initially said the public inquiry would examine abuse claims over a 50-year period from 1945 to 1995.
However, in October 2012, its remit was extended to investigate allegations dating back to the foundation of the state in 1922.