Ballymurphy conviction: Terry Laverty cleared of rioting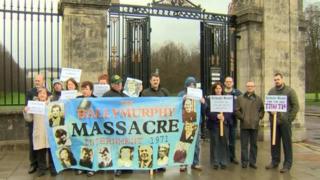 A man convicted of rioting during events in west Belfast in 1971 has had his conviction quashed.
A judge was told the Public Prosecution Service was not opposing Terry Laverty's appeal.
His brother John was among 10 people shot dead by the Parachute Regiment during an operation in west Belfast's Ballymurphy area.
The killings took place over a three-day period in August 1971.
The Parachute Regiment was involved in an arrest operation at the time.
A priest and a mother-of-eight were among the civilians shot dead by soldiers who said they opened fire after being shot at by republicans.
Mr Laverty, 61, was found guilty of riotous behaviour and sentenced to six months in prison based on evidence from a private in the Parachute Regiment.
However, his case was referred back to Belfast County Court by the Criminal Cases Review Commission, a body that examines potential miscarriages of justice.
It took the decision based on new evidence that the sole evidence against Mr Laverty conviction had since been retracted by the witness.
Mr Laverty's barrister stressed in court that the solitary evidence came from a paratrooper who claimed he had memorised the faces of rioters.
But the soldier had just signed a witness statement without reading its contents, it was claimed.
Family and friends gathered alongside Mr Laverty applauded in court at the outcome.
Outside court, Mr Laverty said he has finally been proven innocent after 44 years and talked about the killing of his brother John.
"As he lay in the street bleeding to death I was being arrested, just yards away," he said.
"It was two days before I knew he was dead and almost two days before my parents knew that I was not."