Theresa Villiers in call to retain Heathrow slots for Belfast and Dublin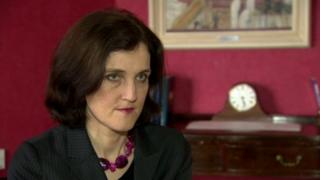 Northern Ireland Secretary of State Theresa Villiers has said it is vital that any new owner of Aer Lingus retains Heathrow Airport slots for Belfast and Dublin.
IAG has put forward a 1.36bn euros (£1bn) takeover offer for Aer Lingus.
Talks are ongoing and involve the Irish government, which controls a 25% stake in Aer Lingus.
Ms Villiers said she would try and encourage any new owner to maintain the slots.
"Of course the ownership of Aer Lingus is a matter for its shareholders, so that is not something over which I as a government minister have any influence over," she told RTÉ .
"But whoever ends up as the owner of Aer Lingus I think it is really important for Dublin and Belfast to retain their slots at Heathrow and certainly I would be engaging with whoever is the ultimate owner to try and encourage them to maintain those slots.
"My predecessor Owen Paterson had some very good discussions with AIG when they took over BMI and of course those slots have been retained.
"I think a change in ownership doesn't necessarily mean those crucial routes to Heathrow would go."
IAG chief executive Willie Walsh is expected to meet senior civil servants in the Republic of Ireland charged with reviewing IAG's bid, on Wednesday.
He is due to face the Oireachtas Joint Committee on Transport and Communications on Thursday.
Earlier this month, the Northern Ireland first minister and deputy first minister said they wanted "legal assurances" that Belfast to Heathrow flights would be protected if IAG buys Aer Lingus.
By acquiring Aer Lingus, IAG would gain more take-off and landing slots at Heathrow - valued at around £30m per pair - allowing it to operate more flights.