West Belfast addiction and counselling services under threat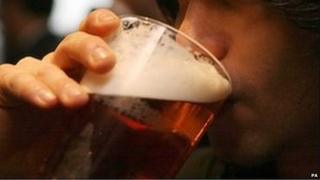 Health and social welfare services are under threat in west Belfast, following proposed budget cuts by the Department for Social Development (DSD).
The community-run programmes are based in the Upper Springfield area. They include counselling and addiction support services.
The BBC has learned that the potential cuts will also have an impact on jobs.
The Upper Springfield and Whiterock areas are some of the poorest electoral wards in Northern Ireland.
Areas such as Ballymurphy, Whiterock, Springhill and Turf Lodge have unemployment and social deprivation figures which are among the worst in Europe.
In the heart of the community, the Upper Springfield Whiterock integrated partnership, provides counselling services for mental health, addiction and also offers advice on housing and social welfare.
Men and women living in the areas have used services for drug and alcohol addiction, however, the BBC understands that welfare advice services will also be affected.
Last year, over 4,000 people received help.
Due to budget cuts being proposed by the DSD, funding under the neighbourhood renewal scheme is being targeted which will impact on schemes not only in west Belfast, but across Northern Ireland.
A spokesperson for the department told the BBC that the minister, Mervyn Storey, still has to finalise decisions around neighbourhood renewal in a difficult financial climate.
However, the spokesperson added that Mr Storey is seeking to protect those projects which demonstrate most effectively that they are meeting the objectives of the programme.