Lowell Goddard 'willing to discuss' inclusion of NI in child abuse inquiry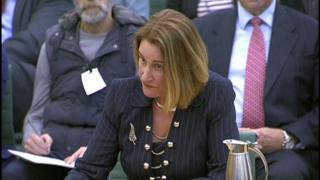 The new head of an inquiry into historical child sex abuse has said she is willing to discuss the inclusion of Northern Ireland in the inquiry.
On Wednesday, Justice Lowell Goddard told the Home Affairs Select Committee she would raise it with the Home Secretary Theresa May if she felt it was appropriate.
Ms May has already said the inquiry will be confined to England and Wales.
But there have been a number of calls for Kincora Boys' Home to be included.
Three senior care staff at the east Belfast children's home were jailed in 1981 for abusing 11 boys in their care.
Questioned by the Liberal Democrat MP Julian Huppert as to what she knew about the Kincora scandal, the New Zealand judge said she had heard of the case, but was "not familiar" with it.
She told the committee she anticipated there would "probably be avenues by which to revisit" the issue and that she would "certainly raise it" for consideration with the home secretary if she felt it was important to do so.
Ms Goddard is the third person who has been asked to chair the inquiry.
Since it was set up last July, two chairwomen have resigned, amid concerns over their links with the Westminster establishment.