Ballymena company G & J Crothers fined over Michael Beston death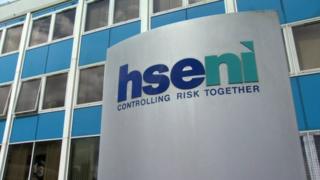 A Ballymena company has been fined £22,500 for safety failings that led to the death of a 39-year-old employee.
G & J Crothers pleaded guilty to one health and safety breach.
Michael Beston died on 29 June 2013 after falling about four metres from the roof of an agricultural building the company was working on.
The work involved removing and replacing tin roofing sheets. Mr Beston stepped on a sheet that was not fixed in place, causing him to fall.
The accident was investigated by the Health and Safety Executive for Northern Ireland (HSENI).
The equipment provided to carry out the work consisted of two roof ladders and one upright ladder, instead of appropriate equipment such as tower scaffold, safety nets or a mobile elevating work platform (MEWP).
Speaking after the sentencing, Jonathan Knox, an inspector with HSENI said: "Our thoughts are very much with Michael Beston's family today.
"If some straightforward practical safety precautions had been put in place, Michael's death could have been avoided.
"This case is a stark reminder that companies need to identify the risks associated with working at height before work starts.
"They must always ensure that appropriate systems and equipment are used to protect employees and to prevent more needless deaths."
The company was also ordered to pay £1,500 costs.